Complaining KFC Guest Gets Beaten by Security Guard in Budapest
On Sunday night, Zoltán Szabó (a journalist and senior staff member at Index.hu, Hungary's leading news portal), was assaulted by a security guard working for the KFC on Király Street in downtown Budapest.
According to his Facebook post (in Hungarian), Szabó had to stand in the line only to be told at the counter that they could only take his order to go. Szabó wanted to file a complaint in the guestbook (an official document required by the Bureau for Consumer Protection where customers can leave messages for management). When his request was denied, he asked to speak to the manager.
The following is Szabó's account from his Facebook post of the rest of the story:
"The manager quickly arrived with a piece of paper in his hand, a blank sheet of copy paper, and asked me to write down my problem and leave. I quickly responded that I am not that stupid, I know they will simply throw that piece of paper away. The point of a guestbook is that it's an official document to which management is obliged to respond, and perhaps someone will explain to their new hires that they don't have to be such assholes to their customers. 'Should I throw him out?' interjected the burly security guard. The manager quickly ended the conversation about the piece of paper and guestbook: 'Throw him out.'"
The security guard then threw Szabó out and beat him up. 
"The security guard did not ask me to leave. In fact, he didn't even address me: he simply grabbed me and – with incredible strength – dragged me across the restaurant, and threw me out. Shocked, I looked up at him and all I could ask was, 'Are you going to hit me too?' And that's when he first punched me. With his fist. My glasses fell off and I could feel blood gushing from my nose. And that's when the desperately angry Michael Kohlhaas came out of me, and I decided that I wouldn't just leave this place like this, I wouldn't just be satisfied by writing a critical review on Foursquare. I pulled out my phone and told the security guard that I would record everything and that I was going back inside to speak to the manager because I don't think this is how KFC systematically deals with complaints. As the video shows, I just repeatedly ask,
Is this for real?'
I stepped through the doorway and recorded him punching me repeatedly until I fell to the ground. And that's when I called the police."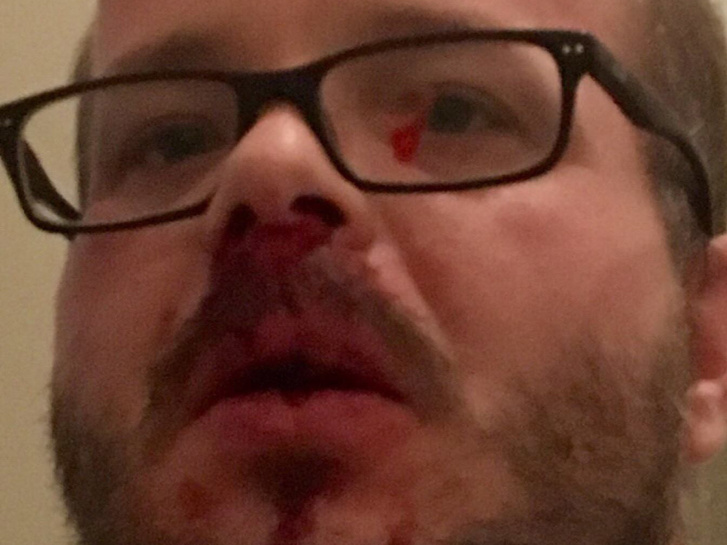 Szabó says he was interviewed by the police as a victim – because he had to receive stitches inside his mouth – and the security guard is being charged for truculence.
Szabó – who was headed home from a whiskey-tasting event – also wrote in his post that the medical report indicates that he was not drunk. However, he does admit he "did not spit out the whiskey during the tasting."
"Despite this, I did not hit back once and I did not inflict any injury on the security guard."
I just let him beat me stupid.
Later on Monday, KFC's regional director claimed full responsibility for the incident. The bodyguard was fired, and the manager of the KFC unit got suspended for the duration of the inquiry. The subcontractor running the Király street KFC is under revision, and employees need to reattend customer service training.
KFC also pledged to comply with Szabó's request to donate HUF 500.000 (€1,600) for charity.
Original versions in Hungarian: 1, 2.
Support the independent media!
The English section of Index is financed from donations.
Alapterület

m2

Szobák

db

Vételár
Alapterület

32 m2

Szobák

1 db

Vételár

30,5 M Ft