How an Israeli Intelligence Company Attempted to Slur a Hungarian NGO and Failed
The Fabrications Based on Misused Audio Clippings Ended Up in the Government Media
Evidence suggests that an Israeli private security company has been hired to discredit Hungarian NGOs. The company with close ties to Mossad and many ex-spies on its payroll, applied illegal intelligence methods. Their targets had one thing in common: the Orbán administration has labeled them an enemy of the government.
The executives of the organization, faked not only companies, websites, and phone numbers, but their identities as well. Their well prepared meetings took place in Vienna, Amsterdam, and New York. To Index' knowledge, one of their members participated in at least two of the operations using different aliases.
Migration Aid, a volunteer civil initiative to help refugees arriving to Hungary, became the target of an elaborate defamation scheme earlier this year. Two members of the Israeli company invited András Siewert, the director of MA to a personal meeting in Vienna. Siewert suspected that the approach might be a recruitment attempt by foreign secret services, so he notified the Alkotmányvédelmi Hivatal, (AH), the counterintelligence branch of the secret service. Siewert filed his report to AH on the 3rd of January, 2018, as evidence acquired by Index.hu confirms.
As expected, the mysterious meeting partners, a middle aged man and a young woman, went ahead and tried to make Siewert agree to illegal activity, or at least record him saying something compromising about Migration Aid's activity. The man asked questions like 'Are there any ties between your organization and George Soros?', 'Don't you think that instead of giving out tents and blankets, you should be organizing demonstrations?', and 'Are there any politicians helping you?'. The man talked openly about a technology available to his company that would make it possible to build a biometric database from fingerprints and personal information on immigrants.
The man, who contacted MA in December, 2017, introduced himself as 'Grigori Alexsandrov' and claimed to be the CEO of a British company, Smart InnoTech. His story did not check out to say the very least: the company Smart InnoTech seemed not to exist at all.
One month later, on February 12th the Migration Aid delegation, Alexsandrov, and his colleague met again in Vienna. According to Index' information, Siewert reported this meeting to AH as well. Migration Aid did not arrive to the meeting unprepared - they recorded both meetings and even managed to take a picture of Alexsandrov and the woman.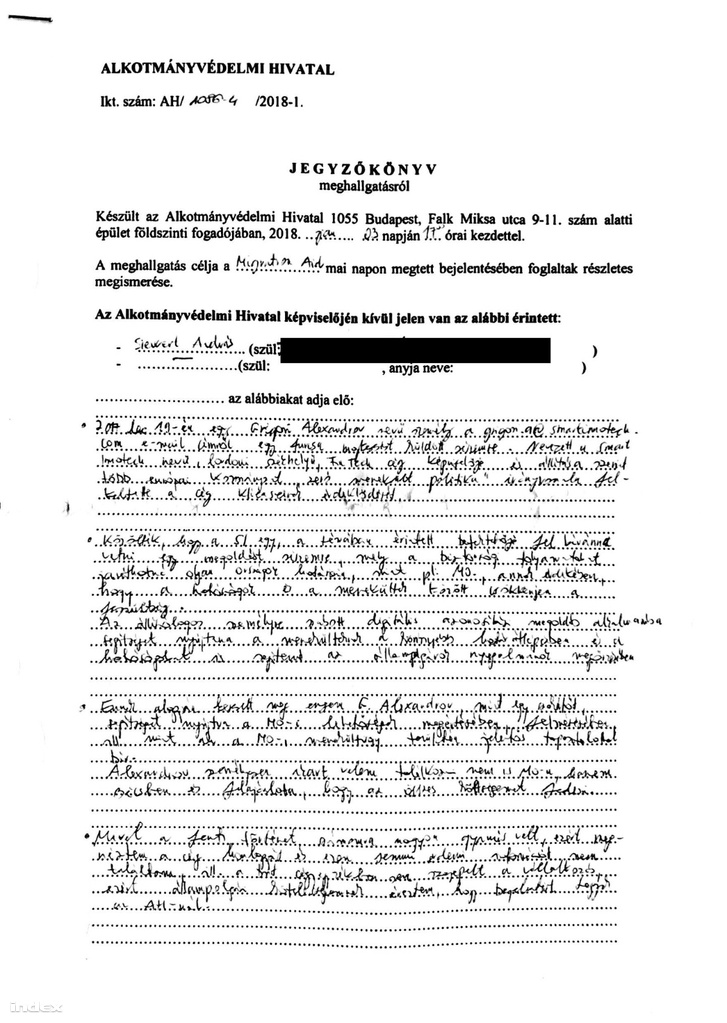 Proceedings of the Constitutional Protection Office
Fotó: Index
Mysterious 'investigative journalists'
What Siewert and Migration Aid did not foresee was the stake of the meeting. One month later, on the 19th of March, the pro-government flagship daily Magyar Idők published an article written by leading journalist Zsolt Bayer. Bayer, who typically takes a more opinionated approach on public affairs, suddenly published an investigative article on MA's meeting with Alexsandrov and his colleague. The article was titled 'Financial interest behind humanitarianism.'
Bayer used snippets from the dialogue, and referred to an 'undercover investigative journalist' as his source to prove that in the guise of volunteer work Migration Aid aimed to make profit on the migration wave. The article claimed that Siewert acknowledged building an illegal secret database, which, based on the tape of the entire meeting acquired by Index, is a slander.
Index also holds evidence proving that the counterintelligence service AH was aware of the operation against Migration Aid. Such information could not have been ignored by Hungarian counterintelligence forces.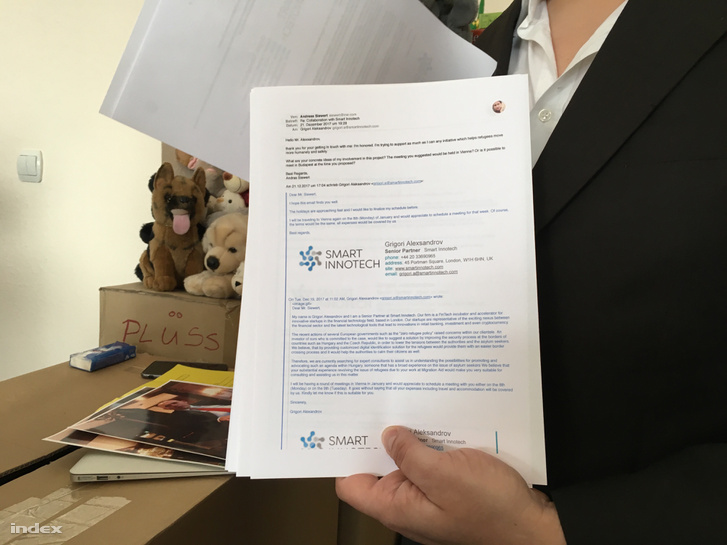 András Siewert shows his email exchange with Alexsandrov
Fotó: Szilli Tamás / Index
Another instance of Bayer working from questionable sources is also quite recent. Tracy Ahern, the CFO of Soros Fund Management between 2008 and 2016 was approached by a Pierre Remy, who invited her to a conference in Hong Kong and insisted on a personal meeting. Their meeting was recorded, and ended up in Magyar Idők, layed out in an article written by Bayer, who used this evidence to prove that there are 2000 'agents' working for George Soros in Hungary. Prime Minister Viktor Orbán referred to this article in an interview on national radio: he said that the name of these 2000 men and women is known and registered by the government.
The Jerusalem Post was also closely involved in the stream of information. A tape on Balázs Dénes of Civil Liberties Union for Europe was published as leading news in the TJP and was immediately covered by Hungarian state news media. The blatant connection between the Israeli and Hungarian pro-government media made it clear to some of the Israeli company's targets that there might be a larger scheme behind the suspicious approaches.
Months of preparation
Alexsandrov and his female colleague were not 'undercover investigative journalists'. They have several ties to secret services and used several aliases while working for the Israeli private security company. To Index' knowledge the man calling himself Alexsandrov (or, as in another case, Novak) has worked for the secret services, more specifically for counterintelligence forces.
Migration Aid was merely one of their many targets: they approached the Budapest office of the Open Society Foundation (the grantmaking network funded by business magnate George Soros) as well as the Hungarian Helsinki Committee and the Hungarian Civil Liberties Union, two civil rights NGO-s that have become chief targets of the state propaganda.
The Aleksandrov group's preparations were based on months of research during which they profiled their targets and made their approach as personalised as possible. They bought domains, built websites and registered fake companies, built an extensive infrastructure in order to appear credible. The team wasn't small: there were up to 4 people involved in meetings, plus researchers, infrastucture executives, language experts and so on. Adding the cost of travel and accomodation we end up with a bill of several hundred thousand US dollars.
The methods with which they approached Migration Aid was typical to business espionage. They probably did not expect their targets to notify the Hungarian counterintelligence before their first meeting, so hopefully AH has by now gathered an abundance of information on both their meetings.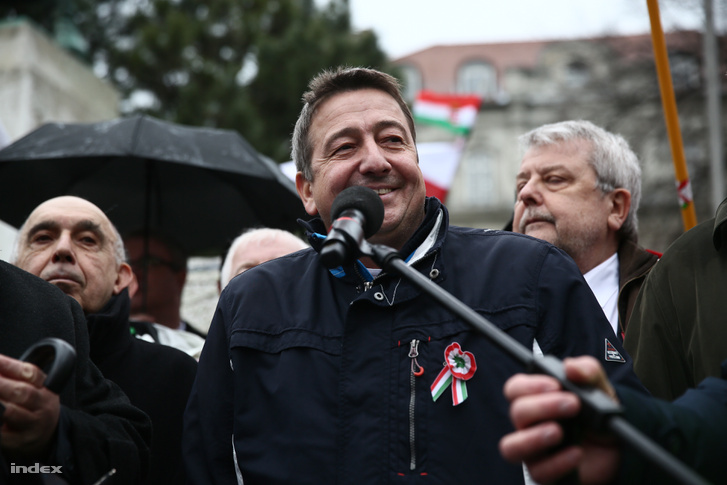 Zsolt Bayer at a government supporting march, on the 15th of March, 2018
Fotó: Németh Sz. Péter / Index
Who hired them remains unknown. What is sure is that the Jerusalem Post and Zsolt Bayer published their information in articles. It is also apparent which political party in Hungary benefitted from the stories. The operations all fit the government's propagandistic narrative against financier George Soros and the migration wave.
This case is not unique at all – in fact several similar stories have emerged internationally in the –ast months. A private Israeli company was involved in the recent Cambridge Analytica scandal, as one of the chief operatives of CA has confirmed. Mark Turnbull admitted to knowing former spies working 'very discreetly' for private companies.
We just hired an organisation for a very, very successful project in a... an Eastern-European country. Nobody knew that they were there, they just leaked in, got the job done, and left, and delivered very, very good stuff. They are experienced in this.
 – he said on a secretly recorded tape by Britain's Channel 4.
Cover image: Andrew Siewert displaying pictures of Grigori Alexsandrov and his female colleague. (Tamás Szilli/Index)
Translation from the original article in Hungarian by Ella Csarnó.
Support the independent media!
The English section of Index is financed from donations.