Proposed legislation would ban protests at Hungarian state ceremonies
Deputy Prime Minister Zsolt Semjén proposed new legislation that would make it impossible to hold protests before and during state ceremonies on locations such as Kossuth square.
According to the legislative intent attached to the proposed amendment to the Act on the Protection of Municipal Landscapes, all premises traditionally used by the State and municipalities to hold ceremonies on national holidays, days of mourning, memorial days, and other (for instance religious) holidays shall no longer fall under the legal definition of "public spaces" in connection with public land use for the time of the event and the preparatory period leading up to it.
If the amendment passes - which is not unlikely given the parliamentary supermajority of the governing party - it will practically mean a full ban on protests at or near state events, since, by law, police will have to deny authorization to assemblies requiring public land use at such locations with no discretion.
The proclaimed aim of the proposition is to exclude the possibility of the State having to compete with parties, NGO-s, and public figures for "reserving" event locations.
The areas affected by the proposed legislation include many iconic and central locations regularly used by the opposition for their protests, such as the area around the Parliament including Kossuth Square and nearby streets, certain Budapest bridges and their immediate surroundings, and some symbolic places where key moments of the historical events commemorated by certain national holidays occurred.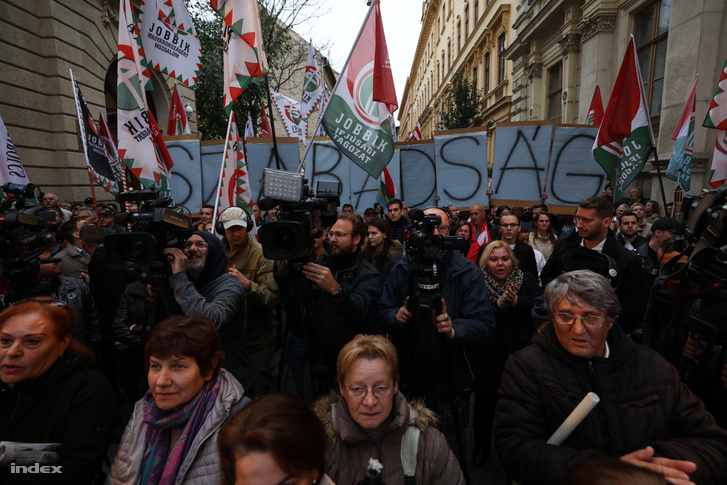 Jobbik's protest on 23 October 2018, which would no longer be allowed if the proposition passes.
Fotó: Ajpek Orsi / Index
Opposition parties think the proposed amendment is unacceptable.
Jobbik deems Semjén's proposition to be another example of "bolshevik-style exercise of power", while Demokratikus Koalíció expressed their opinion that this constitutes an outright violation of the freedom of assembly, and the proposition is curbing basic human rights.
(Cover photo: Opposition protest at Bem József square on 23 October 2018, which would fall under the scope of the proposed regulation. Photo: István Huszti / Index)
Support the independent media!
The English section of Index is financed from donations.
Alapterület

32 m2

Szobák

1 db

Vételár

30,5 M Ft
Alapterület

48 m2

Szobák

2 db

Vételár

45,5 M Ft