Opposition seeks constitutional review of minister-controlled administrative courts
A submission signed by representatives of all opposition parties requests the Hungarian Constitutional Court to review the law establishing the new administrative court system that will adjudicate all lawsuits against state agencies and will be under the close supervision of the Minister of Justice.
The opposition claims that the new courts violate the separation of powers, and would place the independence and impartiality of the administrative judiciary at risk. 
Signatories claim that the fact that a political leader of the executive branch, the Minister of Justice will have the power to appoint and dismiss judges and to determine the budget of the courts is unacceptable from a constitutional standpoint. They write that judicial independence ensures that citizens have a fighting chance against abuses of power by enabling citizens to win lawsuits against the state - but if organisational conditions and judicial appointments depend solely on the relevant minister, judicial independence is diminished.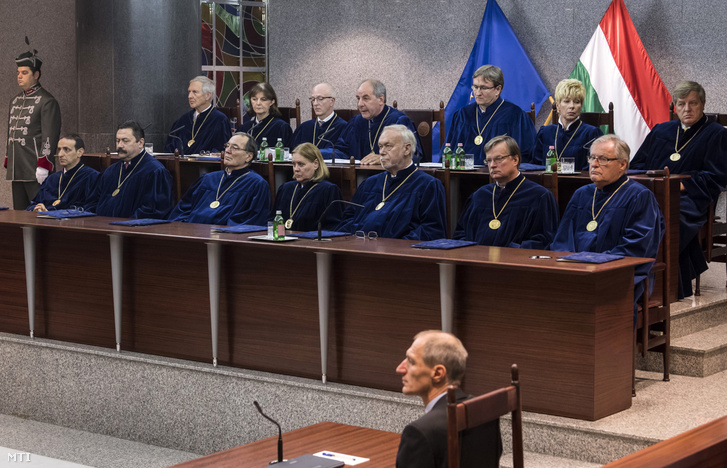 Justices in session at the Constitutional Court of Hungary
Fotó: Szigetv?ry Zsolt / MTI
The opposition is requesting the Constitutional Court to declare the law invalid based on a technicality as well. They claim that the legislative process was not legal, as the Speaker was not on the podium during the vote and he was not assisted by his notaries. They also object that the voting machines in the chamber operated without the insertion of the MPs ID cards, so anyone could have voted instead of those who were absent at the time of the vote.
Support the independent media!
The English section of Index is financed from donations.