US Secretary of State Mike Pompeo visits Hungary
További In English cikkek
The US Secretary of State visited Hungary today to meet Prime Minister Viktor Orbán, Minister of Foreign Affairs Péter Szijjártó and members of civil organisations today. This is the first official visit of a US State Secretary in Hungary for the last seven years. Afterwards, Pompeo is set to travel to Slovakia, Poland, Belgium and Iceland. 
Earlier, Péter Szijjártó said that the relations between the United States and Hungary had been steadily improving ever since the GOP's victory at the 2016 presidential elections, and a sign of that improving relationship is today's visit.  Pompeo and Szijjártó held a joint press conference after their meeting.
The US-Hungarian relations
Szijjártó greeted that with Donald Trump in office the US-Hungarian relations can finally develop a third pillar, a political one, as the economic and the defence pillars of this relationship are already strong. Szijjártó stressed that national interests, the safety of their citizens come first for both countries, and he lauded the United States' efforts to undermine the UN's global migration compact. He said the USA and Hungary share a priority for border defence,  the protection of the Christian legacy, and have both taken joint steps in international organisations for a more even-handed treatment of Israel by the global community.  
"The Hungarian government always based their foreign policy on mutual respect.  We believe that certain countries spending most of their time interfering in the domestic matters of other countries, and lecturing them, is not a way to make the world a better place."
Szijjártó said this is why Hungary vetoed all EU decisions criticising the United States. He added that this grants Hungary the ability to be honest in their foreign policy, which is why it was easy to discuss Hungary's Russian relations, the Chinese advances, and the Ukranian situation.
Mike Pompeo started out by remembering the 30th anniversary of the fall of communism, saying people of Hungary spent that time building a free and prosperous nation. Pompeo expressed his regrets over the years America neglected the Central European region. He stressed that this absence necessarily brings about the presence of the USA's competitors, but that will change as the US increases engagement in the region. He announced the Future Leaders Exchange program, allowing Hungarian high school students to spend a year in the United States at American families, attending American schools.
Defence cooperation
Szijjártó reassured Pompeo about Hungary's defence commitments and announced that the finalized text of the renewed Defense Cooperation between Hungary and the United States is ready, and it will be in front of the Parliament's defence committee by next week. He also announced that Hungary will participate in the defence of the Baltic airspace and will be sending 108 troops in all to Afghanistan and Kosovo and that Hungary is in advanced negotiations with the USA about purchasing a mid-range anti-aircraft defence system.
Fotó: Bődey János / Index
Pompeo also welcomed the modernised defence cooperation agreement, Hungary's strong presence in Afghanistan, and its commitment to spend 2% of its GDP on defence. 
"You need to look no further than Hungary's next door neighbour, Ukraine, to see why this is needed." 
Russia, China, and Ukraine
Szijjártó stressed that Hungary is responsible for 1.2% of the European Union's trade with China and condemned Western European leaders for what he described as hypocrisy. He said Western Europe's superficial criticisms hide large business deals with both China and Russia. "We are fed up in a legitimate way that you usually portray us as having tight relationships with Russia," he told a journalist later. He also said Hungary's Russian and Chinese relations do not interfere with Hungary's commitments towards the United States, and that Ukraine is not a mere geopolitical question for Hungary because of the 150,000 Hungarians living in its western parts.
Mike Pompeo said Russia and China do not share the USA's and Hungary's joint aspiration of freedom:
"We must not let Putin drive wedges between friends in NATO. Today I spoke with the foreign minister about the importance of supporting Ukraine in its quest for sovereignty and territorial integrity. Hungarians know all too well from their history that authoritarian Russia will never be a friend to the freedom and sovereignty of smaller nations."
He also said they talked about the dangers of China raising a bridgehead in Hungary and they discussed how to overcome that issue, as
"Beijing's handshake sometimes comes with strings that will leave countries indebted both economically and politically."
Hungary's energy dependence
Szijjártó said that Hungary will be able to diversify its energy sources if Exxon's natural gas extraction operation will start in Romania, and he asked for Pompeo's assistance in urging the company to make that final decision. Answering a journalist he later added that at the moment, 85% of Hungary's national gas is coming from Russia,  but Hungary is dependent on its allies in diversifying its energy sources - as soon as Croatia says a reasonable price and the Slovenian cooperation for a gas pipe towards Italy comes to fruition, the country will be able to lower its dependence on Russian gas. He also added that this diversification does not serve the interests of Western Europe, that is why they are trying to establish a pipeline to Russia with a capacity of 50 billion cubic meters per year.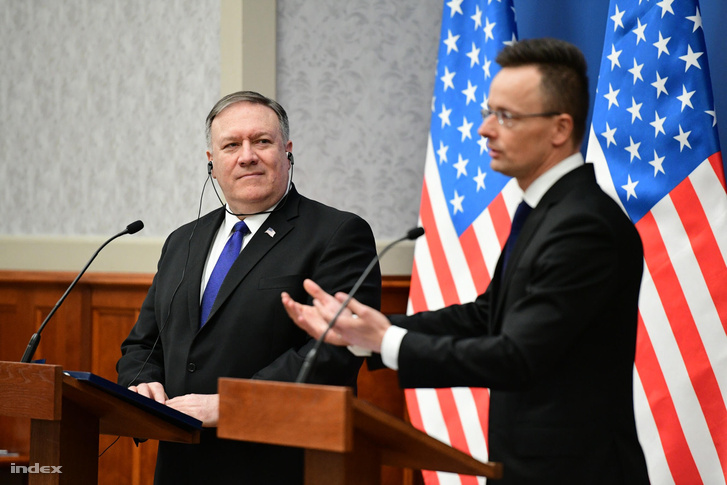 Fotó: Bődey János / Index
Pompeo said that Central Europe's energy diversification is not a matter of selling American gas but of national security, as dependence on Russia increases its leverage and the chances of its engagement in the region.
Mike Pompeo's meeting with NGOs
Earlier, Mike Pompeo had a meeting with representatives of the Hungarian civil society.  The NGO's press release stated that they informed Pompeo about the problem spots of Hungarian rule of law. They told Pompeo about the diminishing separation of powers, the measures placing judicial independence in peril, and the laws from the past couple of years that endanger Hungarian democracy. The attacks against civil society and independent press were also on the agenda, including the role of the giant pro-government media holding in spreading disinformation. Representatives of civil society said that Pompeo's
"openness to the opinions of civil society has proven yet again that the United States leadership is committed to the values of rule of law and the protection of civil society's role."
At the press conference, Pompeo did mention his visit with the representatives of Hungarian civil society, and when later a journalist asked if he will ask Prime Minister Orbán at their meeting about human rights, rule of law, and press freedoms, he said
"Amongst friends, we always talk about important issues. America always stood for that set of values, and I'm confident we'll have a good discussion."
Apparently, they did, but these specific topics did not come up according to the press release the US State Department issued the same night. It said Pompeo and Orbán discussed the bilateral relations between the two countries and the US efforts to bolster defence cooperation, counter Russian aggression, and strengthen NATO. Pompeo also greeted Hungary's acquisition of US military hardware. They talked about regional stability, EU integration for the Western Balkans, and the need for Central Europe's energy diversification.
Support the independent media!
The English section of Index is financed from donations.