How did voter turnout change since 2014, and what does that tell us?
További In English cikkek
Turnout at the 2019 municipal elections in Hungary is way higher than it was five years ago: at 1:00 PM, it was 26.6% and 34.69 at 3:00 PM. The last time so many eligible voters have turned up at the polls was in 2006. The higher figure is mostly attributable to an increase in the activity of voters in Budapest and in larger cities. But who benefits, Fidesz or the opposition, incumbent Lord Mayor István Tarlós, or opposition challenger Gergely Karácsony? The effects of the Borkai-tapes have made it even more difficult to guess which side was riled up by the events of the past few days.
This analysis requires even more disclaimers than similar analyses usually do, as turnout figures throughout the day normally show which political side mobilised better. By checking which towns and cities have higher activity, and knowing where those towns are traditionally voting lets us deduce which side mobilised their bases better. If a lot of people vote in Csorna, that could show Fidesz's successful mobilization in the countryside, but if there are long lines at polling stations in the traditionally opposition-leaning XIII. district, then that could give the opposition hope.
This time, however, this might lead us astray. Not only because of the nature of a municipal election, where the emphasis is much more on the personality of the candidates than their party affiliations, but also because there were several scandals involving locally popular candidates, and these could have changed the constituents' willingness to vote, but it's hard to tell how.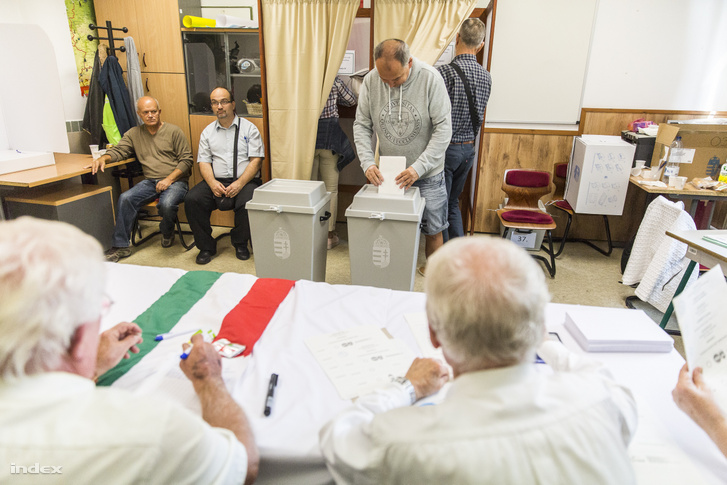 Fotó: Nagy Attila Károly / Index
But despite the uncertainty, let's see what is already apparent from the available data (which you can find on our infographic below:
Nationwide voter turnout is only second to the 2006 figures: Nationwide turnout at 13:00 was 26.6% and 34.69% at 15:00 at this year's election, while it was only 23.5% in 2014 at 13:00 and 30.1% at 15:00. This turnout is not only higher than it was at the last election, but also higher than usual, the only time when more people voted throughout the day was in 2006. Back then, the all-encompassing scandal of then-PM Ferenc Gyurcsány and his speech on the leaked audiotape motivated voters, this year it is probably the sex tapes of Győr's mayor Zsolt Borkai.
Battleground towns have the highest turnout. Turnout data from all over the country varies quite a lot based on the type of town in question. Our map below shows that larger cities are typically more active than small towns - in them, turnout is often even below 2014 levels. Activity is especially high in towns considered battlegrounds, where the race is still undecided, such as Szombathely, Pécs, Miskolc, or Eger. Turnout in Hódmezővásárhely is through the roof, it was above 60% at 17:00 today - ever since last year's surprise victory by opposition candidate Péter Márki-Zay, the town had been receiving intense media attention, and Fidesz's candidate István Grezsa runs as an independent candidate. 
The people of Budapest were slow to wake up: In the early hours of the morning, Budapest was low in the statistics, however, voters have slowly woken up and by 1:00 PM, Budapest turnout was above the national average at 28.3%, and remained there by 3:00 PM with 36.3%. If the trend continues, turnout could be way above 50% by the time the polls close. It's impossible to tell who benefits from this as the Borkai-tape's effects are unforeseeable - Fidesz's incumbent Lord Mayor István Tarlós tried to distance him from the scandal by urging Borkai to step down. Fidesz's calculations said a low, 40-45% turnout would benefit Tarlós as his supporters are more mobilized, and a higher turnout could indicate the activity of Karácsony's supporters.
Buda and the outer districts are the most active: Looking at the activity of Budapest's districts, we can see that district I. in Buda is where the highest number of people voted, followed closely by outer districts. These are traditionally Fidesz-supporting areas, but - once again referring to the Borkai-tapes - it is not out of the question that the opposition voters have turned up at the polling stations in higher numbers. Residents of inner districts, traditionally leaning more towards the opposition, are not so eager to vote though, even if there are close mayoral races in the VII. and VI. districts.
Support the independent media!
The English section of Index is financed from donations.