Coronavirus: Hungary suspends issuing visas to Iranian citizens
Tibor Lakatos, the head of the Hungarian government's coronavirus task force announced on Friday that Hungary indefinitely suspends issuing visas to Iranian citizens due to the outbreak in the country.
At the task force's daily press conference at 2:00 PM on Friday (they meet every day at noon and inform the press afterwards), Lakatos reminded that there are four confirmed coronavirus cases in Hungary, three people from Iran and one from the UK. The Iranian patients are in the Central Hospital of Southern Pest, the British patient is in the Kenézy Gyula Hospital in Debrecen. There are 39 people currently in quarantine, and 263 samples were taken for testing. The contact investigations of infected patients are still ongoing.
"Right now, we have individual cases, our main goal is to prevent community infection."
Lakatos also said that the virus is present in all countries of the region, there are 43 cases in Austria, 11 in Croatia, 6 in Romania, 12 in the Czech Republic, and one each in Slovakia and Poland.
Lakatos announced that from now on, protective equipment can only be exported from Hungary with the permission of the government coronavirus task force. He also mentioned that the infected student did not avoid high-attendance events, so the task force called on universities to inform their students about the precautionary measures and the risks.
Chief medical officer: We are looking at 35 people because of the Iranian patient
Hungarian Chief Medical Officer Cecília Müller provided information on the contact investigations related to the four coronavirus cases in Hungary:
The first infected Iranian student returned to Hungary on 22 February, authorities are investigating 35 people who could have had close contact with him. His girlfriend was confirmed to be the fourth case on Thursday when she was already in quarantine as a close contact of an infected patient.
The second infected Iranian student's only close contact was his wife, and she is already in quarantine, they arrived back in Hungary on 28 February. He studies at the Szent István University of Gödöllő and he adhered to the university's safety precautions and quarantined himself before being tested.
(Update: Since the press conference, Artus Studio in Budapest warned that the married couple attended one of their theatre plays on 29 February. The wife of the patient informed the studio on 5 March that her husband tested positive on the previous day.)
The contacts of the 69-year-old British man who tested positive on Thursday has already started, his primary close contacts are his wife and mother-in-law, but authorities already asked Wizzair to provide them with the passenger list of the Milan-Debrecen flight on which he returned to Hungary.
Müller also said that authorities finished investigating the contacts of the group of infected tourists who visited Budapest at the end of February. She said it was "reassuring" that the three women from the USA and the woman from Ecuador did not spend much time outside of their rented flat in Budapest apart from visiting the Széchenyi Thermal Bath, and had no close contact with anybody else.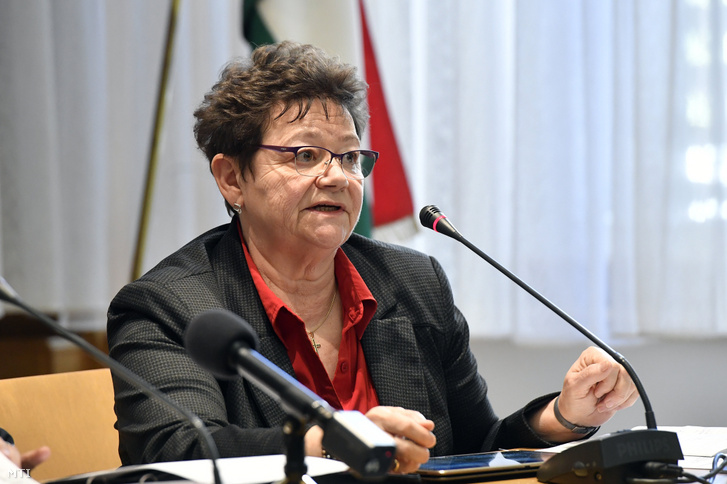 Chief Medical Officer Cecília Müller speaking at an earlier press conference
Fotó: Máthé Zoltán / MTI
Authorities also investigated a group of seven French tourists who stayed at a party hostel in Nagydiófa street, Budapest, they interviewed all members of the hostel's staff, and identified only one close contact: their passing acquaintance who is a citizen of Argentina, but had already left Hungary, Müller informed, adding that the state of the contact investigations changes from hour to hour.
Three of the patients are getting better
Dr. János Szlávik, the head of the contagious unit at the Central Hospital of Southern Pest (DPC) spoke about the condition of the confirmed coronavirus patients:
Szlávik told the press that one of the Iranian patients only exhibited minor symptoms throughout, and by now, he feels well, but he is to remain in the hospital until his recovery is confirmed.
The other student from Iran is also well and has no fever, but he is worried about his girlfriend; she developed a fever and she is strongly coughing, she is likely to remain in the hospital for an extended period.
The British man hospitalized in Debrecen showed signs of a damaged kidney and received IV treatment, but by today, his fever passed and his life functions are improving. 
Szlávik also said that they are examining a doctor who previously treated one of the Iranian students, as she developed a fever some days ago, but she tested negative, and her fever had passed.
The DPC will release 15 people out of quarantine on Sunday. A dentist and his assistant were also quarantined, but they tested negative, so if their condition does not get worse until Sunday, they will walk free as well.
Szlávik said that the 15 coughing Japanese tourists who were hospitalized yesterday are in isolation, but only one of them has a fever, test results are expected at 3:00 PM - if all tests are negative, they will be released as well. Szlávik also mentioned that a lot of people are turning to the DPC to get tested, however, they do not conduct preventive tests.
After Szlávik finished, a Hungarian government official announced that the government is to launch an information campaign on the coronavirus, raising awareness of the disease and its prevention in short videos and ads in the papers.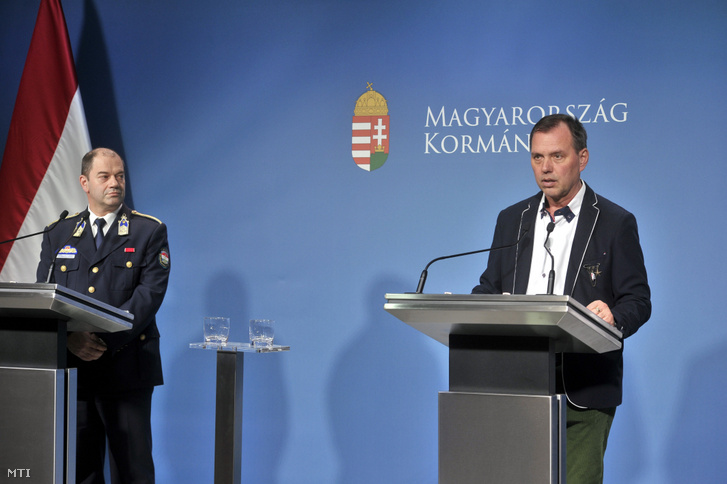 Head of the government's coronavirus task force Tibor Lakatos (l) and János Szlávik (r) of the Central Hospital of Southern Pest at a press conference on 4 March 2020.
Fotó: Kovács Attila / MTI
Chief medical officer: Only close contacts are isolated
Afterwards, Chief Medical Officer Cecília Müller returned to answer questions from reporters. She gave the following responses:
The deciding factor concerning isolation is whether or not the person in question was in close contact with the patient, if they were in the same space for an extended time. Someone who just walked past an infected person will not be isolated.
Responding to a question about the Hungarian national wrestling team that was in Iran recently but had not been quarantined, Müller said they examine every case as the virus could affect anyone, but the fact that the virus appeared in a country does not mean that it is present in every region of that country.
A reporter asked about an alleged coronavirus suspicion at the Fine Arts University, Müller said she heard about the rumour but they received no official report. 
The 35 contacts of the Iranian patient received notifications from the authorities ordering them to self-isolate until authorities find out more about their epidemiological status.
The pregnant wife of the Iranian patient who studies in Gödöllő tested negative on Thursday.
The coronavirus situation in Hungary
According to the latest update (11:15 AM) of the government coronavirus website,
in Hungary, 4 people are infected, 39 are in quarantine, and 269 samples were taken for testing.
Hungary announced the first two cases in the country on Wednesday, two Iranian university students studying in Budapest and Gödöllő were infected on their (independent) trips to Iran. The first two patients and their partners are in isolation at the Central Hospital of Southern Pest, and their contact investigation is still ongoing.
Two more confirmed cases were announced on Thursday, one is a 69-year-old British man living in Debrecen who returned from Milan by plane last Friday, the other is the girlfriend of one of the Iranian students.
Neighbouring Serbia also announced their first coronavirus case on Friday, according to Serbian Minister of Health Zlatibor Lončar.
The 43-year-old man tested positive on Friday morning after returning to Serbia from a visit to his sister in Budapest, who also exhibited symptoms.
At the press conference, Chief Medical Officer Cecília Müller commented that the visit happened more than two weeks ago, beyond the known incubation period of the virus, so this case should not be cause for alarm.
Also on Thursday, a group of 15 Japanese tourists were taken from their hotel on Kálvin square in Budapest to the Central Hospital of Southern Pest under suspicion of Covid-19. The tourists were all coughing but otherwise showed no symptoms.
On Friday, a Dutch man walked away from isolation in the medical centre of Budapest's district XVIII. The man complained of a headache and high fever, doctors previously called an ambulance to take him in for testing, but he did not wait and walked out, police are looking for him since. The second floor of the building was closed and is currently being disinfected. 
Authorities are also retracing the steps of a group of infected tourists who spent several days in Budapest at the end of February before testing positive for the virus days later in Prague. So far, it seems that they visited a ruin pub, a crepe shop, a pharmacy, and the Széchenyi Thermal Bath.
The first Hungarian citizen to contract Covid-19 was a man who worked on the cruise ship Diamond Princess was confirmed to have the disease at the end of February, he is still being treated in Japan.
(Cover image: György Varga / MTI)
Support the independent media!
The English section of Index is financed from donations.