Budapest to reopen on Monday
We have won the first battle against the pandemic,
Hungarian Prime Minister Viktor Orbán announced in a video message on his Facebook page on Saturday afternoon. Orbán thanked the citizens for their discipline and announced that
the number of infections is declining in Budapest too, therefore, the government will lift the stay-at-home order in the city.
Restrictions will be eased in Budapest with a two-week delay to the countryside, but Orbán said that his talks with several experts on Saturday morning reassured him that they managed to beat the epidemic back in Budapest as well.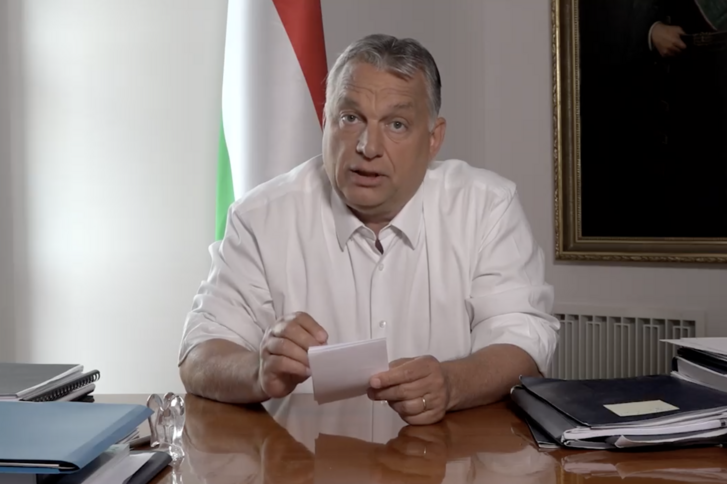 Screenshot of Viktor Orbán's video message announcing the reopening of Budapest
Fotó: Facebook / Orbán Viktor
Responsible behaviour and keeping a proper distance from others is still key, Orbán warned, asking the mayor of Budapest and district mayors not to underestimate the risks of the virus and to pay special attention to retirement homes. 
Budapest mayor Gergely Karácsony welcomed the government's decision in his Facebook post, asking the government not to underestimate the risks of the virus and to pay special attention to hospitals, where, according to the mayor, there were more infections than in retirement homes.
The stay-at-home order was implemented on 28 March, and it was originally intended to last only two weeks, but in the end, the government had to extend it indefinitely, reviewing its necessity on a weekly basis. The restrictions were first lifted in the countryside at the beginning of May, leaving the capital and its agglomeration, Pest county under lockdown. The opening of the latter and the further relaxation of regulations in the countryside was announced on Friday and will be effective on Monday. In his video message, the Prime Minister did not specifically say when the new rules concerning Budapest would enter into effect.
At an online press conference later that same day, Minister of the PM's Office Gergely Gulyás filled in the details. He recalled that the stay-at-home order was lifted in the countryside on 4 May with further relaxations coming this Monday, and announced that after consulting experts and mayors, the government decided that Budapest should follow a similar timetable with a two-week delay.
In accordance with that, from Monday, the government will enact the same changes in the capital as they did in the rest of the country in early May:
Terraces and gardens of restaurants, cafés, and confectioneries can open from Monday, and these businesses will also be allowed to use public spaces free of charge until 1 September in order to compensate for the losses the sector suffered,
Parks and playgrounds will be open to visitors once again,
Religious ceremonies will be allowed, just like weddings and funerals, but wedding parties can only happen after 15 June and must have fewer than 200 guests.
All stores can remain open past 3:00 PM, but shopping hours for senior citizens (9:00 AM to noon) in grocery stores, drugstores, and pharmacies will be upheld. The time of senior hours at markets is to be determined by the respective municipalities.
Beaches, open-air baths, zoos, open-air museums and the zoo can reopen as well,
No restrictions will apply to services,
Universities in Budapest can also reopen on Monday if rectors decide to do so.
Wearing face masks will remain mandatory in stores and on public transportation, just like keeping a 1.5-metre distance from others in public.
As announced earlier, the restrictions will be further relaxed outside of Budapest as well on Monday. Being one step ahead of the capital, most of the rules above are already in place there, but starting from next week,
restaurants, cafés, confectioneries 

 in the countryside 

will be allowed to provide service indoors as well, but staff will have to wear masks and a proper distance will have to be kept,
parks and playgrounds will reopen there as well,
hotels can restart operation,
and weddings with fewer than 200 guests will also be allowed.
(Cover photo: István Huszti/Index)
Support the independent media!
The English section of Index is financed from donations.