Freedom House: Hungary becomes first "partly free" EU member
Freedom House examined 195 countries in this year's Freedom of the World report surveying the state of democratic institutions in the world. Even though Hungary received numerous criticisms in recent times, this is the first occasion the human rights organisation changed Hungary's "free" status to "partly free," which is also the first instance this had happened to an EU member state.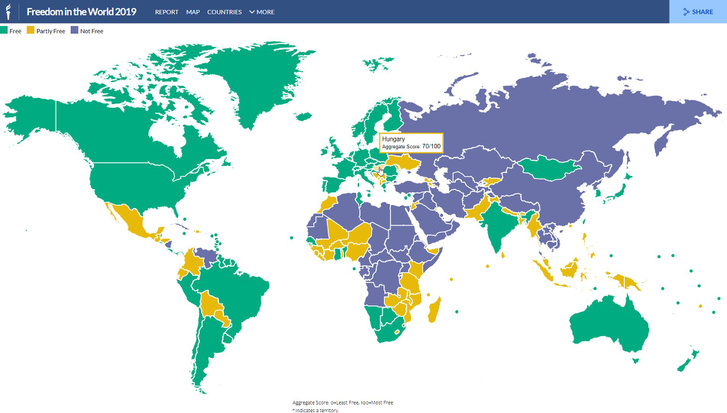 Out of the 195 countries included in the report, 89 are considered free, 59 are considered partly free, and the remaining 50 are classified as not free.
This year, Hungary only received an aggregate freedom score of 70 points, which is a two-point decline compared to last year's 72. Freedom House's report explains the lower score and the change of status with the "sustained attacks on the country's democratic institutions" by the governing party. The report mentions the restrictions and control imposed on the media, the courts, religious groups, the private sector, and civil society. 
The detailed report on Hungary is available here in English. You can access Freedom House's complete world report here.
The Hungarian Government Information Centre soon responded to the report: "Freedom House is a member of the Soros-empire, it is funded by Soros, and it is now serving the election campaign of Soros." The official position of the Hungarian government is that Freedom House and the "rest of the Soros-organisations" are attacking Hungary because "the Hungarians have decided that they will not allow anyone to turn Hungary into an immigrant-state."
This article is a slightly modified translation of the original published by Index in Hungarian.
Support the independent media!
The English section of Index is financed from donations.